Email can be a powerful tool in your marketing arsenal when done right. It's low cost, has easy to understand analytics, and can have a larger reach. Plus, it's the most preferred channel by consumers to communicate with businesses.
So whether you want to stay in touch with your customers and prospects, or send your brand's message and offerings out, emails offer the right avenue to build strong customer relationships.
However, for your email marketing to become effective it needs to get the elements and content right. Today, we'll guide you through the basic Dos and Don'ts for crafting great email newsletters.
List Segmentation
When it comes to email marketing, there's no one-size-fits-all solution. Your customers aren't all the same. They have different pain points and needs so it's only wise to approach them differently.
Do: Make it more human
No one likes receiving generic messages. Adding a personal touch to your newsletter not only builds a relationship with your subscribers, but also wins their trust. Segment your list according to your audience interest, demographics, or spending habits.
Personalized and well-target emails feel more like a conversation, and as a result, they receive higher open rates. This eventually helps you gain higher ROI, more leads, and lower opt-out.
Don't: Buy email lists
Unless you want your message to be labeled a spam, never ever consider buying an email list. The main goal for your email campaign is to reach out to people who are likely to purchase your offerings. But with a bought list, you only have heaps of prospects who will probably never open your email.
Subject Line
It only takes a couple of words to urge a recipient to click and open your email. And your subject lines hold the key to that.
Do: Craft an eye-catching subject line
Eye-catching means using a direct language with a hint of urgency. Be clear what you want your customers to find out when they open your message. Make your subject line personal, too. This holds especially true for prospects, as they are more likely to be drawn into emails if they see their names mentioned in their inbox view.
Don't: Use exaggerated words and phrases
Shy away from spam trigger words, ALL CAPS, and too many exclamation points so you don't end up in the junk folder. You might also want to avoid creating a lengthy subject line that it gets cut off in the preview. An overly dramatic subject line will not only cheapen your message and make you sound unprofessional, it will also decrease open rates and increase unsubscribes.
Content
Your content should explain what you can offer to your reader and how it can solve their problems. They have opened your email, now you need to make sure they don't regret that decision.
Do: Be relevant and informative
A good newsletter should be informative and entertaining with only a little hint of promotion. Focus on delivering valuable content if you want your audience to be receptive of your emails, brand and offer.
Additionally, make your email light and readable by using a neat font. You should also keep the margins narrow enough and the text scannable to allow your readers' eyes to relax and move down. And to hold your readers' interest, consider using a friendly voice.
Don't: Be 'salesy' and pushy
Email is essential for communicating with your consumers and prospects. But if you sound too pushy to make a sale, you will only push your audience away. Take note, consumers these days are looking to connect with real people who care about what they need.
Frequency
Frequency alongside timing is vital in email marketing. But keep in mind that the amount of emails you send largely depends on the type of your business and industry.
Do: Find the right balance
Strike the right balance between how often to email and when to send emails. For example, newsletters within the company may be sent out a few times in a quarter while lead nurturing emails may be done a lot more frequently, say weekly.
If you're uncertain about this, experiment various possible frequency rates on each email. Eventually, results will suggest what your audience wants.
Don't: Overwhelm your subscribers
Try not to send emails too often as this will only lose your readers and mark your messages as spam. On the other hand, communicating only on occasion will also lead to your subscribers forgetting about you. It's also a big no-no to bombard your contact list with information or reminder emails devoid of fresh content.
Analytics
What's good with email marketing software – that is, if you're using one – is that it includes statistics on every email you send out.
Do: Monitor the stats
Make sure to analyze your campaign's stats to see how your emails are actually performing. Some of the things you need to check are the open rate, click through rate and bounce rate. Monitoring and analyzing your emails can help you ensure the success of your marketing performance.
Don't: Stop improving your campaign
Continually use your stats to improve your campaign. Try out different subject lines or calls-to-action, or conduct A/B tests to find out what works best.
Final Stage
The last thing you want to happen is spend a lot of time putting together a compelling copy for a newsletter only to find out it doesn't work.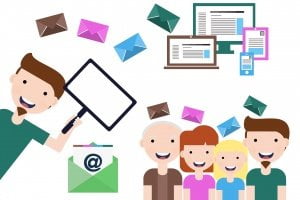 Do: Get experts onboard
Developing a strong message that will reflect your brand's goals and values can be a real challenge. Thus, it makes sense to hire an expert who knows what they're doing. Content writers have the ability to create your communication appealing, error-free and pitch-perfect. This extends to graphic designers, too.
Don't: Settle for less
Take note, careless email mistakes will only make you look unprofessional and less reliable. That is why it's important to get an expert who can thoroughly proofread and edit your copy before it goes out to your contact list.
And don't forget to test your email before sending them out. Choose a few contacts in your office to whom you can send the email and make sure every element is in place. When you feel like everything is ready, time to hit the send button.