For the most part, content marketing must aim to create engaging content that converts. You already know that content comes in all shapes, sizes and topics. The great ones captivate, educate, and inspire. Three content qualities that are worth seeking – whether you are creating content for your email campaigns, landing pages, social media posts, etc.
After all, effective content marketing means producing pieces of information that:
gets shared,

builds backlinks,

converts visitors into (loyal) customers,

ranks high in search results,

and enhances brand recognition.
Sounds great, right? But that still leaves you with the question:
How do you create engaging content?
Represent your brand with impressive visuals
As the famous quote says, "Don't settle for anything less than you deserve." By that, we mean creating quality graphics. Plenty of studies found that visual content is a surefire way to get your customer's attention. In fact, when the visuals are relevant, readers spend more time looking at the images than they do reading text on the page. For businesses looking for an affordable solution, Canva is a great online tool to help you get started.
Highlight your success stories
We all love stories, especially ones that motivate and inspire us. In order to avoid showing off or drawing negative attention, let your happy customers speak about your big wins. Testimonials, reviews and feedback offer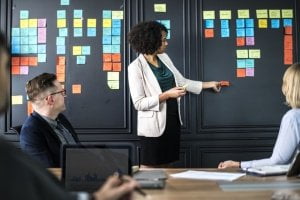 the benefit of sharing your success with your target audience in a meaningful and empowering way. As you see, most consumers nowadays rely on this kind of information before making a purchase, so don't miss out on that.
Reward your avid fans
People love freebies, particularly those they find useful. You can create engaging content by offering some sort of content takeaway for free on your website. These might take the form of white papers, how-to videos, industry cheat sheets or insightful guides. Make sure they have to be downloaded so you can capture the information of anyone who takes that free content. This way, you learn more about them and market to them more effectively in the future. Giving away useful content may also make your readers more responsive to your messages. Or, to be more willing to try out your product or service.
Share hot and trendy topics
Following a trend is human nature. Whatever the reason, people love to chase current and popular topics. With Google Trends, it is easy to discover trending terms on the Internet. You can even search for popular keywords around your niche. This can be useful for creating content that will keep your readers informed and ahead of the game. Trending topics are also an effective way to get the attention of the wider audience and give your post a huge traffic boost.
Use a conversational tone
Another effective way to create engaging content is to write as if you are speaking with a close friend. This is especially helpful when writing less-than-dazzling topics like big data and deep learning algorithms. No matter how boring they get, there is always a way to make your readers interested. Start with a story. Blend a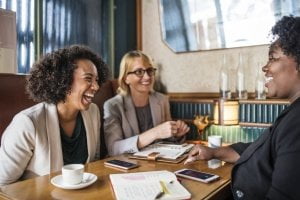 conversational tone with hard facts. Discuss the key points but leave overly technical details.  Choose an angle that everyone can relate to. While you write, imagine that you are talking with a buddy. Your writing will flow naturally and be more compelling.
Ask your readers to take action
Sometimes, despite having a well-written content, getting the results you want is hard to come by. Why? It is typically because you don't prompt your audience to make a move. There are like hundreds of different types of calls to action. You can ask your visitors to sign up for a trial demo, download your ebook, fill out a survey or subscribe to your newsletters. With CTAs, you provide your prospects and customers a clear sign to take that next step.
The most refreshing way to create engaging content is to avoid selling. Concentrate on delighting and educating and everything will fall into place. Our professional content writers know exactly how to keep your content interesting without being salesy. Let's chat!