Managing your social media presence is just as crucial as offering stellar content to your followers. Not only is social media a perfect avenue for updating your followers with recent happenings, it is also the best place to offer them relevant content and to gain candid feedback and ideas for topics. Not to mention the countless opportunities social media provides for your brand to connect with thought leaders in your industry and build relationships with them.
However, with the countless social media channels you need to be active on, managing them manually can often become a tedious task. Good news is that there are also lots of social media management tools that you can use to make your life easier.
Top Three Social Media Management Tools
Social media management tools come in many sizes and shapes. We've rounded up the top three that are leading the industry today. This includes Hootsuite, Buffer, and Sendible. Each one has its own strengths and weaknesses as well as a few unique features to help you decide which one is suitable for your business.
Hootsuite
With over 16 million users worldwide, Hootsuite is one of the most widely used social media management platforms across the globe. Using the free plan, Hootsuite allows you to connect up to three social accounts from your choice of Facebook, Twitter, Instagram, Google+, LinkedIn, and Youtube. You can schedule up to 30 posts at any time. Once you reach the limit of 30 posts, you have to wait until one of your scheduled posts is published before you can schedule another post. If you wish to manage more social media profiles, you can upgrade your account to a professional account at any time. Paid plans start at $19 per month for a Professional plan and can range up to $599 per month for a Business plan.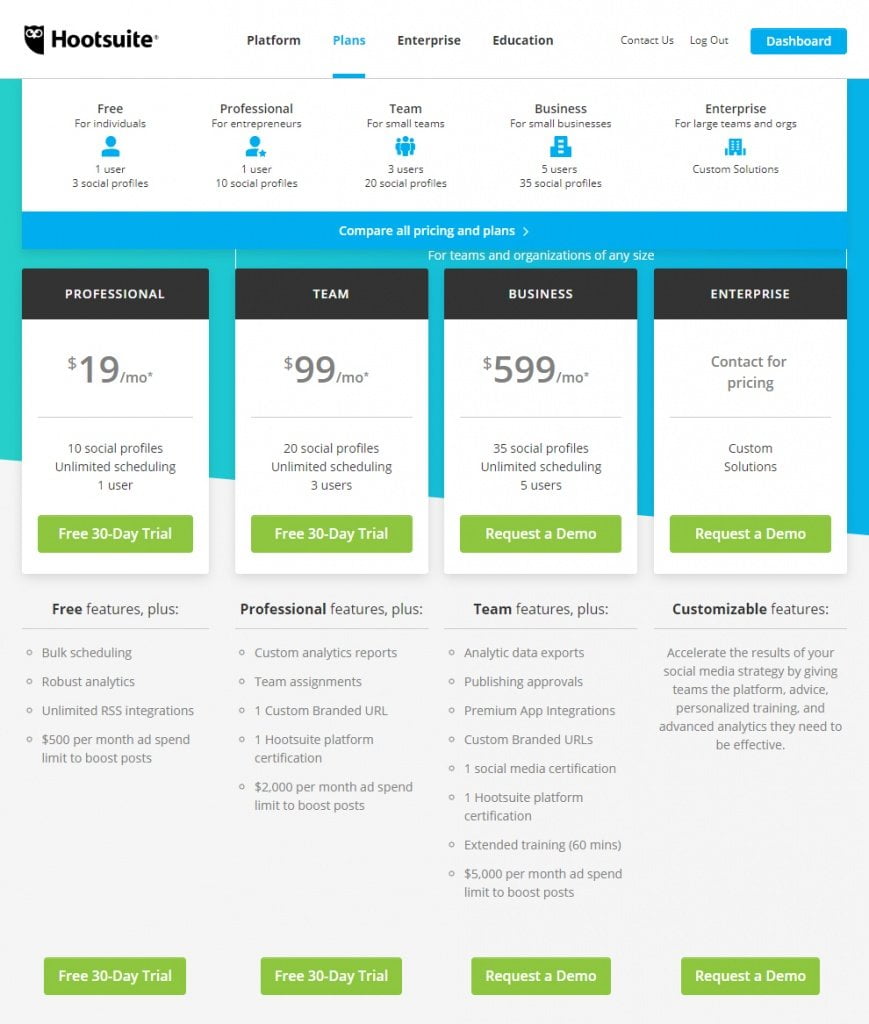 Pros
If you think it's time to upgrade your account from a free plan, Hootsuite allows you to enjoy a 30-day free trial for Professional and Team plans so you can take the time to explore which plan is best suited to you.

Depending on your paid account level, Hootsuite gives you the freedom to manage multiple social media profiles from one dashboard.

Hootsuite's all-in-one interface lets you segment engagement activity into social networks and streams. For example, you can have one tab for all your business accounts while another tab contains all your personal social profiles. You can also assign individual tabs to LinkedIn, Facebook, Instagram, etc.

Scheduling different posts on your social networks becomes easy with its auto schedule feature. You can upload a .cvs file and schedule hundreds of posts to go out at different times.

It provides a useful monitoring service that shows replies, mentions, and direct messages from all your social networks in one place.

It offers insightful and customized analytics for paid plans. This is good for presenting results to management or clients with less workload on your end.
Cons
Their 30-day trial requires your credit card details. If you fail to cancel your free trial before it ends, you will be automatically charged.

For security purposes, the platform will periodically remove its connection to some of your social networks without notice. This means that you will need to reconnect them from time to time.

The features in the free version are quite limited, but then again it is free. Detailed analytics can range from $50 to as high as $500 per report. While very useful, it is relatively expensive for small business owners.

For a less tech-savvy entrepreneur, the platform comes fully loaded with a lot of tools. This might take you longer to find your way around.

It can easily get more costly if you are working within a team. As you add more team members and apps, the more money you need to shell out.
Buffer
Buffer has become popular for its ability to schedule recurring posts. This means that you don't have to start from scratch when you want to schedule the same piece of content. Whereas Hootsuite gives you the freedom to schedule your posts at any time you like, Buffer grabs a lot of content and lets the website update it by itself. All you have to do is set-up an initial posting schedule and Buffer will continue to post for you just as long as you drop new content in. Like Hootsuite, you can get started with Buffer for free. Its free version allows you to integrate three social profiles from your choice of Twitter, Facebook, LinkedIn, Google+ and Instagram. You can also schedule 10 posts per social account. Paid plans begin at $15/month for a professional plan and can range up to $399/month for a business plan.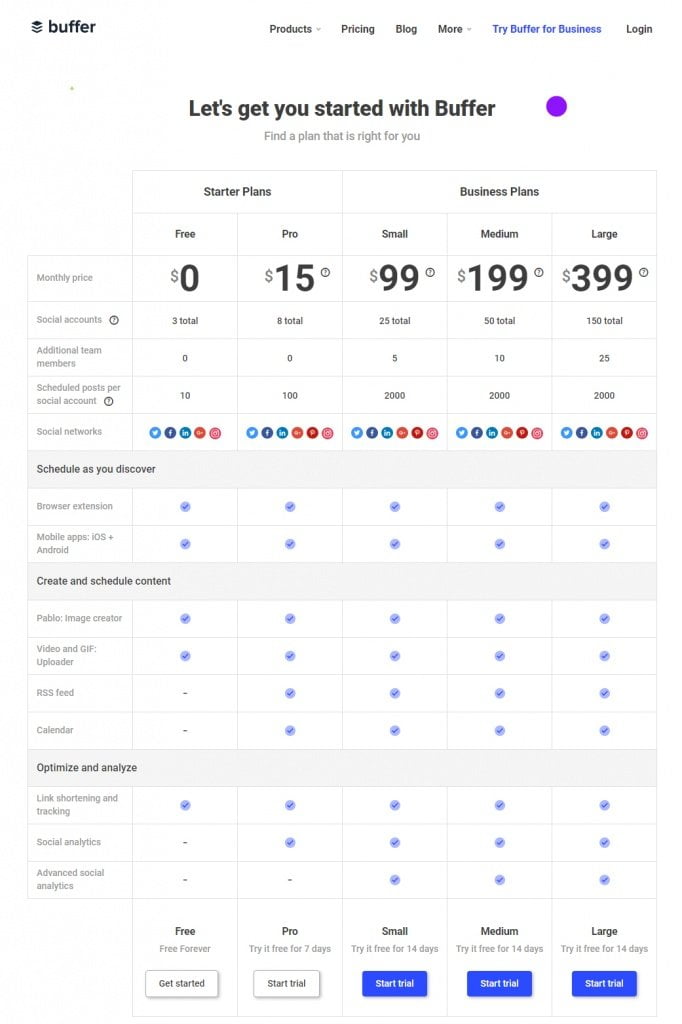 Pros
In a free version, you can already obtain some analytics. If you are looking to track the performance of your posts and how they are being received, Buffer is a good option – although more comprehensive social analytics begin at $99.

Their paid plans are more affordable than Hootsuite. While it is not as complex and robust as Hootsuite, it is a cleaner and easier tool to use. Only a small learning curve is involved.

Aside from the scheduling features and analytics, Buffer lets you add RSS feeds from your favorite blogs so that you can share the content easily. It also has a free image creation tool called Pablo that helps you create social media images very quickly.

The Buffer extension for Chrome is also a useful addition. The extension includes a lot of benefits, including keyboard shortcuts to help you speed up your social sharing and social media button integration. It becomes easier to share links and content from wherever you are on the web.
Cons
Scheduling posts to go out at specific times can sometimes be difficult as Buffer is much more oriented towards finding the best times to post. However, it aims to automatically time your posts to get maximum engagement.

It doesn't have a monitoring tool for mentions, searches and hashtags. Although you can connect it with your Twitter account, you won't be able to view your Twitter feed or directly interact with your followers.

It has shorter trial versions compared to Hootsuite. You only have 7 days to try its professional plan and 14 days for its business plans.

Similar to Hootsuite, you can add more team members, but you will be charged an additional monthly fee.
Sendible
Sendible is a popular social media management tool among marketing agencies and businesses across a wide range of industries. Like Hootsuite and Buffer, Sendible provides ease, speed, and accuracy when managing your social media campaigns. Elegant and advanced, Sendible is designed to drive growth and effective social media marketing using its own tools. Although it doesn't offer a free plan, you can use the micro version for $29 per month. This connects a single user to 12 social media profiles with unlimited scheduling. Business plans start at $99/month and can range up to $299/month, integrating up to 192 services and 12 users.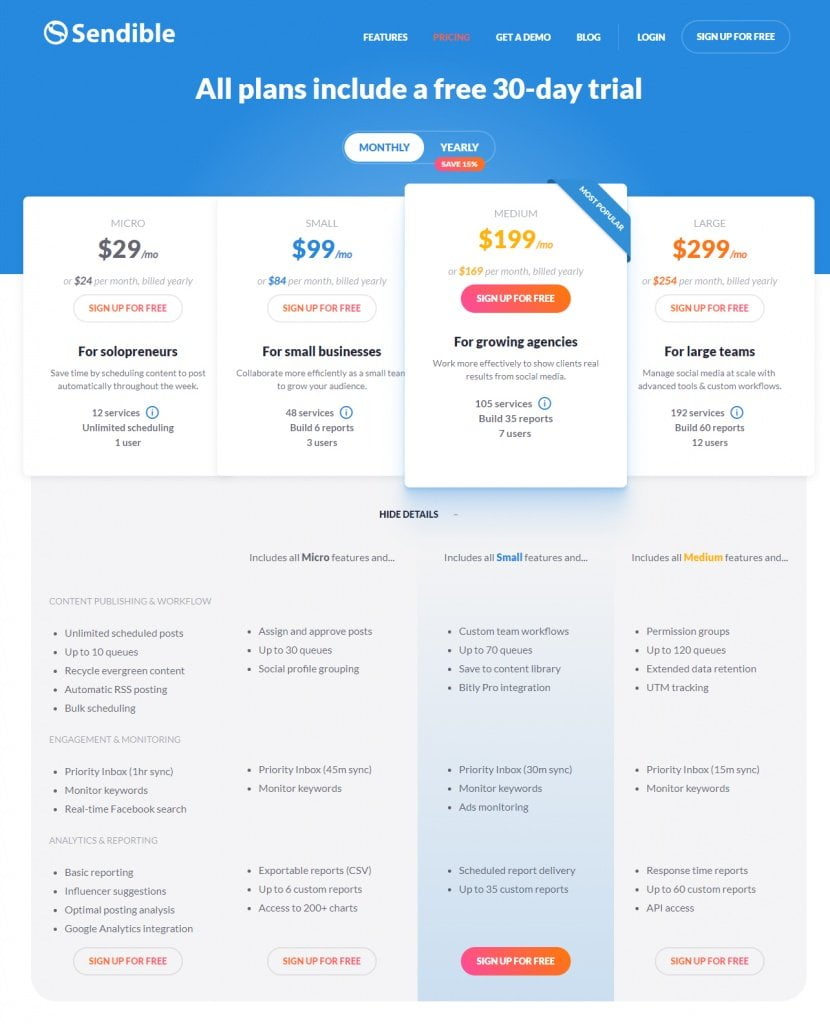 Pros
Depending on the package, you can get basic to in-depth analytics and reporting. You can even monitor the best performing posts you have published and reschedule them to appear on your social profiles.

With its reporting functionality, creating professional, detailed reports is easy. You can pull relevant data and information from different social handles into one place and present them directly to your clients. Since these reports are easy to understand, you save time in explaining them to your clients.

You can find an interactive calendar in the dashboard to help you track tasks and set up workflows. Scheduled posts can also be sent for approval and reviewed before they go live.

You can also track online brand reputation in the dashboard by monitoring what people are saying about your business on blogs, news sites, social networks and even mentions in comments.

If your business is looking to take on more clients, Sendible provides a white label solution to help you attract prospects and generate more revenue. Here are the benefits of having a white label.

It has a simple management interface that even the least tech-savvy person can manage without the need to follow exhaustive training. If you are working with a team, it is easy to access other profiles and multiple social media accounts under one roof.

While payments are usually taken monthly from your credit card, there is a 15% discount if you choose to pay annually. Plus, all plans include a free 30-day trial. This way, you can take the time to figure out which plan best fits your needs.
Cons
Sendible is relatively pricey compared to Hootsuite and Buffer, and doesn't offer a free package. While it is packed full of tool and features, many of them will require an upgrade.

Like Hootsuite and Buffer, each package comes with its own user limits. It gets more costly as you add more team members.

In some occasions, glitches and connection issues occur in the platform where things don't seem to work properly. The good thing is that Sendible has a stellar customer support team that responds quickly and proactively to issues.
Bottom Line
Businesses have different social media goals and needs and no single social media tool can meet all your requirements. The smart thing would be to do your research, try out free versions, read a few expert reviews, and reach out to vendors for clarifications. Once everything is clear, decide which tool can provide the most reliable functionality and support your business needs.
We understand that as a small business owner looking for a reliable social media management tool may not be a priority. At Boost Media Group, we have a team of social media specialists who can build your social media campaigns from the ground up. Contact us for a free marketing analysis.